Is your business becoming mobile?
Imagine being able to accept credit and debit card payments…..
Safely and securely on the go
Through application on your cell phone
Using only a small swiper device
Receipts sent to customers email
Keep current processor rate
Compatible for multiple users combined to one source
Money Man 4 Integrity does it with ROAMPay!
Giving customers the option to pay using a cell phone app, increases the number of on the spot sales! Mobile technology has become vital to business growth, operation and lessening collections. To offer Ecommerce to business owners is good business, a convenience to customers and retaining business with its ease of use. Please contact one of our Added Value Services specialist to get started today!
Money Man 4 Integrity knows how important it is to be mobile. This is why Money Man 4 Integrity offers an advanced mobile commerce platform that enables merchants to sell a product or service safely and using either a smart phone or tablet. You will never miss a sale.
Are you on the move?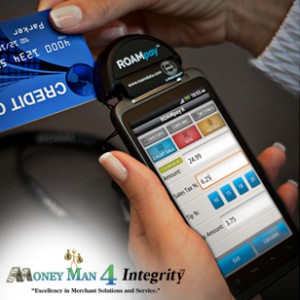 Imagine your business being able to take credit and debit card payments…
-Safely and securely while on the go
-Through an app on your cell phone
-Using nothing more than a small swipe device
-While receipts are sent via email to customers
-At your current processing rate
-From multiple users into one merchant account
Money Man 4 Integrity has imagined it, and has made it available in ROAMpay™!
Money Man 4 Integrity knows when a merchant is capable of giving customers the option to pay through a cell phone app, that merchant increases the number of immediate sales on the spot! For many merchants, mobile technologies have become vital to business growth, operations and reducing collections. Offering mCommerce has proven to be a good business decision, a convenience to the customer, and its ease of use helps with retaining business.
As mCommerce has expanded and grown, technology applications have grown as well from small square cumbersome technologies to Money Man 4 Integrity's ROAMpay™.
ROAMpay™ is an advanced mobile commerce platform with turnkey and custom apps that enable merchants to sell a product or service safely and easily utilizing a cell phone or mobile device. Simply swipe the card, enter the amount and let the client sign for the transaction with their finger. It automatically sends the customer an email receipt and allows you to capture the email for further promotion.
The ROAMpay™ mCommerce platform can be used on hundreds of different devices; the swiper is compatible with almost all iOS devices such as the iPhone, iPad and iTouch, and it supports almost all of the most popular Android devices such as a Droid. Money Man 4 Integrity ROAMpay™ reader provides a more robust read and is more secure than any other solution on the market. It also allows merchants to use their existing mobile merchant account at their present rates. Additional features include email receipts to customers and a transaction history on the merchant's phone, or online.
In today's marketplace, merchants who can fully respond to the mCommerce trend at the point of sale (POS) are the ones that will grow. In addition to the convenience and increased sales benefit for the merchant, customers find their shopping enabled, their experience improved and their needs satisfied quickly and easily. Visualize a salon or body shop being able to accept payments anytime, anywhere with Moneyman4Integrity's ROAMpay™, a mobile app, and a low-cost swipe-capable POS device. Whether you have a large number of employees, technicians or wait staff, the ROAMpay™ phone app supports multiple users on the same merchant account, making it a perfect POS device for larger companies too. ROAMpay™ responds beautifully to the needs of merchants who conduct their business on-the-go or within a brick and mortar retail establishment.
With, Money Man 4 Integrity's system the security of a financial transaction is vital. Moneyman4Integrity's ROAMpay™ POS swipe device fully encrypts cardholder data at the card reader before it reaches the mobile device. The data can then only be decrypted at a secure payment server. This helps merchants maintain PCI security while helping consumers feel that their card information is handled safely. Triple-DES encryption keeps transaction data safe.
Please visit our ROAMpay™ FAQ page for more detailed information, and view our charts on compatibility with specific phones. We know you'll be pleased! Money Man 4 Integrity offers leading-edge technology, ease of use, tight security, convenience, low cost, and additional features to meet the needs of both the small business and the consumer. Call us today at 888.88.CASH.1 ext. 0 and you'll be up and processing tomorrow!
You can download the ROAMpay demo on your phone to show to prospective merchants!
Look for the following app:
Android
iOS devices
Blackberry OS Devices
Compatible Devices:
HTC Amaze 4G
HTC Aria AT&T
HTC Droid Incredible 2 Verizon
HTC Droid Incredible (AMOLED) Verizon
HTC Droid Incredible (SLCD) Verizon
HTC EVO 4G (hardware ver. 0002) Sprint
HTC EVO 4G (hardware ver. 0003) Sprint
HTC EVO View 4G Sprint
HTC EVO Shift 4G Sprint
HTC EVO 3D Sprint
HTC G2 T-Mobile
HTC G-Slate T-Mobile
HTC Hero Sprint
HTC Inspire 4G AT&T
HTC Jetstream AT&T
HTC Merge U.S. Cellular
HTC MyTouch 3G T-Mobile
HTC MyTouch 3G Slide T-Mobile
HTC MyTouch 4G T-Mobile
HTC MyTouch 4G Slide T-Mobile
HTC Nexus One AT&T
HTC Nexus One T-Mobile
HTC Rezound Verizon
HTC Sensation 4G T-Mobile
HTC Status AT&T
HTC Thunderbolt Verizon
HTC Wildfire S T-Mobile
Kyocera Echo Sprint
LG Ally Verizon
LG Enlighten Verizon
LG G2X T-Mobile
LG G-Slate T-Mobile
LG Optimus S Sprint
LG Optimus T T-Mobile
LG Phoenix AT&T
LG Revolution Verizon
LG Thrill AT&T
LG Vortex Verizon
Motorola Admiral Sprint
Motorola Defy T-Mobile
Motorola Droid Verizon
Motorola Droid Bionic Verizon
Motorola Droid Pro Verizon
Motorola Droid 3 Verizon
Motorola Droid X Verizon
Motorola Droid Xyboard Verizon
Motorola Xoom LTE Verizon
Motorola Xoom Wi-Fi n/a
Samsung Captivate AT&T
Samsung Continuum Verizon
Samsung Conqueror 4G Sprint
Samsung Droid Charge Verizon
Samsung Epic 4G Sprint
Samsung Fascinate Verizon
Samsung Galaxy Indulge MetroPCS
Samsung Galaxy S 4G T-Mobile
Samsung Galaxy S II Skyrocket AT&T
Samsung Galaxy Tab Sprint
Samsung Galaxy Tab Verizon
Samsung Galaxy Tab 7.0 Plus (Wi-Fi) n/a
Samsung Galaxy Tab 10.1 (Wi-Fi) n/a
Samsung Galaxy Tab 10.1 LTE Verizon
Samsung Galaxy S II Epic 4G Touch Sprint
Samsung Illusion Verizon
Samsung Infuse 4G AT&T
Samsung Intercept Sprint
Samsung Nexus S AT&T
Samsung Nexus S 4G Sprint
Samsung Sidekick 4G T-Mobile
Samsung Vibrant T-Mobile